Services and Techniques in Bellingham WA
At Life Chiropractic in Bellingham WA, we take great pride in providing the finest chiropractic wellness care to our patients. Below is a sampling of the different chiropractic services we offer in our Bellingham office.
---
ProAdjuster Instrumented Chiropractic Care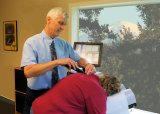 Bellingham's Life Chiropractic provides pain relief and advanced spinal correction utilizing the computerized ProAdjuster "state of the art" chiropractic treatment instrument. Never in the history of chiropractic have we been able to provide the level of help and expertise that now exists. The ProAdjuster produces a safe, comfortable, and reliable chiropractic experience that can be enjoyed by people of all ages with varying physical conditions. In addition, the ProAdjuster provides numerous soft tissue protocols to support the spinal adjustments. For your benefit, we also use the handheld Activator instrument and a mechanical spinal movement table.
In addition we employ the cervical spine "Posture Pump". This safe device decompresses and simultaneously shapes and molds the spine into a properly-curved shape aligns the spinal bones configuration. An added plus ios the disc bulges can decrease. With adequate repetition and time a majority of individuals can receive improvements in their cervical spinal curve.
Bellingham's Life Chiropractic also uses "Health Bridges." This great Canadian invention, when used properly, provides really healthy spinal and body molding retraining and is excellent for the ladies who wish to avoid the all-to-common and predominant forward head and stooped-over posture - a real life wrecker.
We invite you to come on over, meet us, and learn what we have to offer to people in need.
These newer correction methods are even safer, more comfortable and more effective than ever before. Patients of all ages look forward to a really enjoyable experience without having their body twisted or distorted. Youngsters, big tough guys, and the elderly have all shown meaningful benefits from ProAdjuster nervous system fine tuning. As a Doctor of Chiropractic, Dr. Richard Hargreaves has years of training and experience in spinal adjustment.
---
Re-educating the Spine for Pain Relief and Better Performance
Bellingham's Life Chiropractic is in the business of health promotion and pain-free human performance.
We teach our patients specific exercise and physical training to help strengthen and correct their own unique problem. Once learned well, these movements can be performed in the comfort of one's own home and can improve the effectiveness of your spinal correction. In addition to skeletal misalignment, deconditioned muscles and connective tissues can be strained and continually aggravated by improper alignment and repetitive use. The literature has shown that from at least 1957 in the Journal of the American Medical Association. Specific exercises and dynamic activities can help your body stay in balance and in health. Dr Hargreaves actively holds twin certifications with the National Strength and Conditioning Association. As a Certified Strength and Conditioning Specialist and Certified Personal Trainer Dr. Hargreaves expects patients to produce significant results that change their lives for the better.
Predictable results are expected due to specific nervous and muscular system training stimulation along with spine stabilization/endurance. We focus on developing balance, agility, and co-ordination with body weight training for both young athletes pursuing excellence and senior citizens building protection from disastrous and life-threatening falls. Significant investment has been made in various types of effective low tech training equipment:
"Body Blades" - spine, torso, and shoulder endurance and balance
"Shoulder Horn" - shoulder pain relief, balance, strength, and for recovery
Medicine balls of various weights - spine strength, balance, and shoulder rehabilitation
Kettlebells - balance, spine and torso strength endurance
Fitballs of various sizes and densities - pain and tension relief
Power ring - abdominal and torso strength and balance
"Posture Pump" - pain relief and better movement
Prescriptive foot orthotics - deep inner alignment
"Health Bridges" - that Great Canadian spine molder and health enhancer
"ProAdjuster" soft tissue protocols - neck, low back, sciatica, knees, plantar fascitis, shoulder, carpal tunnel syndrome, headaches
If you want to live with less pain and improve your daily performance, the absolute core of your body must freely perform. That absolute core of your entire body core is your spine. Without a healthy spine, good things just won't happen by accident.
---
Lifestyle Advice
We often find it helpful to "coach" our patients on certain activities they should avoid or do differently to avoid aggravating their particular health challenge. As a matter of fact, many patients have "hired" Dr. Hargreaves to organize and oversee specialized physical training regimens. Our goal is to help every patient achieve a fulfilling and happy life full of the activities they most enjoy. We recognize that each patient is a whole person, and reaching true health and wellness for that whole person is a collaborative effort.
---
Spinal & Postural Screenings
Bellingham's Life Chiropractic offers posture and spinal screenings which can reveal important health information and unlock the door to improved health and well-being. We provide screenings at area malls, community events, health fairs and places of employment. Contact us today to arrange a screening at your event or workplace.
Like it or not, the daily effects of stress and trauma do add up. Let us perform a screening.
"Loss of the cervical (neck) curve stretches the spinal cord 5-7 cm and causes disease." Dr. A. Breig, Neurosurgeon (Nobel Prize recipient)
If your spine has lost its normal shape the discs between the bones may have already started to decay. When the spine has lost its curved shape, the discs are compressed and rich lubricating fluid is unable to penetrate. This causes premature aging in the form of stiff dry joints. When the spine is properly curved, nutrient-rich fluid is "imbibed" or drawn into the discs by their "sponge-like bellows action," promoting spinal balance and joint wearability.
If you, your family, and important friends have not been checked out, it would be my distinct pleasure to evaluate your living posture in a preliminary manner completely free of charge.
OFFICE HOURS
---
Monday
9:00am - 6:00pm

---
Tuesday
9:00am - 6:00pm
---
Wednesday
9:00am - 6:00pm
---
Thursday
9:00am - 6:00pm
---
Friday
9:00am - 6:00pm
---
Saturday
Closed